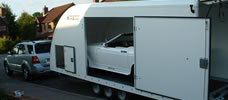 Our Services
Here at Sterling Motor Transport, our policy is to utilise only the highest quality, most modern transportation equipment available. With this in mind, we operate a 2007 Motor Shuttle Tri-Axle Trailer, manufactured by Brian James Trailers Ltd, Daventry.
Our Trailer:
can accommodate vehicles up to 17ft / 5.18m long, 6ft 10in / 2.08m wide, 6ft 4in / 1.93m high, and weighing up to 2,450 kgs;
features hydraulic tilt-bed operation combined with 2.0m long loading ramps, providing an ultra-low loading facility, ideal for vehicles with low ground clearance;
is equipped with an onboard electric winch with remote control, to facilitate the loading and unloading of Restoration Projects, Static Models, Non-Runners, Competition Cars etc.
Your vehicle is fully insured whilst in our care, through Aon / Royal & SunAlliance. Our policy covers transits throughout the UK and Europe. Evidence of cover is available upon request.
Sterling Motor Transport comply fully with the rules and regulations governed by the Department of Transport Vehicle & Operator Services Agency (VOSA). Our towing vehicle is fitted with a digital tachograph, and this towing vehicle and trailer combination complies with all restrictions on towing weight and load capacity. Please take great care when choosing a vehicle transportation company - you risk having your vehicle impounded by the VOSA and any insurance is likely to be rendered invalid if your chosen transporter is not operating within the law.
You can contact us at all times whilst your vehicle is in our care. We will contact you to advise of any undue delays during transit.
We transport your vehicle ourselves. We do not sub-contract to other companies.
Specialist Single Vehicle Transportation is our business. We are not involved in vehicle recovery or any similar operation.